What is the Rotovelo?
The Rotovelo is human powered vehicle. It's designed around a recumbent tricycle frame and provides a great level of stability. Inside, it uses standard bicycle components, so is very easy to service and maintain.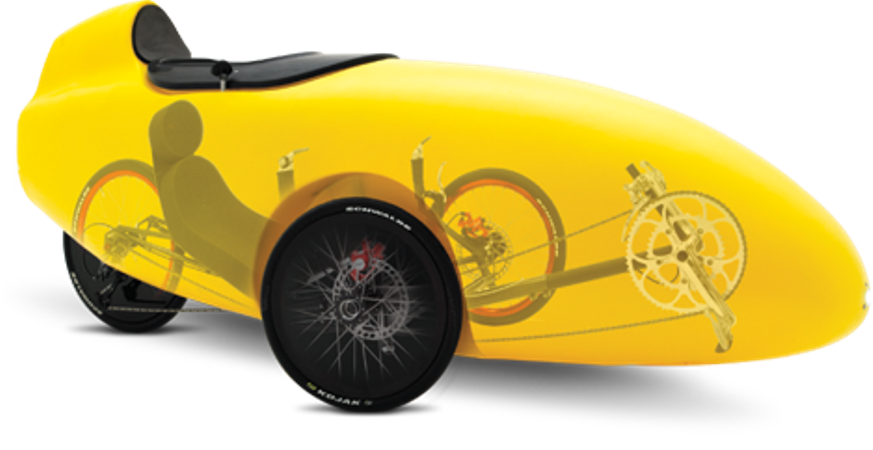 Easier than walking, faster than cycling
The Rotovelo provides a comfortable riding position, which means you're able to travel significant distances with ease. This also makes it a practical choice for commuting distances that are not practical for walking. With a cruising speed of 40-50km/h easy to achieve, you could complete a 20km journey in around 30 minutes.
Take it out on the weekend and you can expect to be overtaking road cyclists. The aerodynamic design not only means great cruising speeds, but you can burst at up to 55-60km/h. Trisled, the maker of the Rotovelo, has taken it's engineering expertise from making velomobiles that break speed records and brought it into the design. You can expect an instant 20-30% speed improvement compared to your average bicycle speed.
Sturdy shell design
The Rotovelo made from HDPE, a durable type of plastic, which makes it light and great for commuting. This colourful rotomolded shell and enclosed design will also improve your safety out in traffic. It also means that if your Rotovelo is locked to a bike stand, there's no paint to be worried about getting scratched.
The Rotovelo has a storage capacity of 80 litres, which makes it great for carrying your shopping. This storage space means you no longer have to have to get sweaty with a backpack, and you can say goodbye to panniers!
Rain proof design
The enclosed design of the Rotovelo gives it built-in rain proof qualities. This makes it a great choice for Ireland's unpredictable weather.
All Velocycle Rotovelo's come with a standard protective cover to keep the riders shoulders covered, while their head remains out. With the optional rain hood, you get full coverage from the elements and an improved aerodynamic profile.
How much does it cost?
The Rotovelo base model costs €5,900 (including all taxes).
Availability: Currently in stock
Optional accessories
Rotovelo Rain Hood – €300
The rain hood is a fully enclosed, aerodynamic cover for the Rotovelo that keeps the rider completely dry in rainy conditions.
Rotovelo in Ireland
We are the official Irish distributor for the Rotovelo. Based in Co. Louth, we can arrange for delivery of the Rotovelo anywhere within the Republic.
More about the Rotovelo